An excellent player and a great talent, but needs a restart. With these words, the new coach of the Slovakian national football team, Francesco Calzona, commented on László Bénes' nomination. The Hamburg midfielder returned to the national team after a year.
On Sunday, he was one of fourteen players who welcomed Calzona to first practice for the two Nations League matches against Azerbaijan (Thurs, September 22 at 8:45 PM in Trnava) and Belarus (Sunday, September 25 at 6:00 PM on neutral). terrain). in the Serbian town of Bačka Topola).
Calzona had to make one forced change. The injured Ivan Schranz was replaced by David Hrnčár from Slovan Bratislava.
The twenty-nine-year-old winger of Slavia Prague did not finish the European Conference League game against the Kosovo team Balkani on Thursday (3:2). He left the field on a stretcher, he has a concussion and also a spinal injury. He will not play again until the end of the fall season.
read more Very sad news. Schranz is in hospital with head injury
"I appreciate that the coach chose me for his first meeting. It's a new project. I like the Italian style.
It will be great for sure. I have experienced different clubs, different styles and tactics in Germany. We will definitely play differently than before. I'm looking forward to it," Bénes said at the Sunday briefing in Šamorín.
The 25-year-old playmaker has seven national team starts and one goal.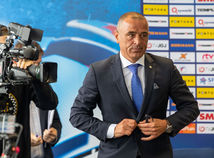 Read also Calzon player selection via video? It's like the dating went wrong
In the summer, he made the move from Borussia Mönchengladbach, where he was plagued by injuries and made no impact for six years, to second division Hamburger SV. In nine games, he scored a goal and set up two. In addition, the well-known German club is in first place in the 2nd Bundesliga.
"I'm glad I went to Hamburg. I feel better every game, even if it wasn't what I expected at the beginning. My job is to give one hundred percent for the club and arrive in good shape for the national team meeting," Bénes added.