Nafta Gbely's players were not far from winning a point in Levice. Despite the bad start, they gradually came back into the game with two contact goals and after the break they created several promising chances to equalize with their activity.
ZsFZ 4th competition 6th round
Left – Diesel fuel Gbely 4:2 (3:2), 5th own (M. Vrábel), 8th N. Kupča, 24th T. Hlaváčik, 90th Sz. Jakubík – 10. Ľ. Ligas, 33. D. Nemec, r. Kukan, Fodor, Juhas. ŽK 3:7 (P. Ravas, L. Ravas, Ligas, Mička, Rosa, Bohun, coach Ambra).
Gbely: P. Ravas – Rosa, Lánik, Mička, Mráz, Ligas, Smolinský, L. Ravas, Bohun, Vrábel, Nemec (str. Rehák, Pribyla), coach Adam Ambra.
On their table neighbour's field, Gbely wanted to follow up on the points gain from the opponent's fields after the victory in Nitra. It didn't work out for them, mainly due to a bad start to the game, already in the 5th minute. scored an own goal from Mário Vrábel, beating P. Ravas in another three minutes in the visitors' goal N. Kupča – 2:0. A start like that would bring any team to its knees, but Gbely didn't take it. Just two minutes later, the German buried an empty cross to Ľub Ligas, who reduced the score to 2:1 with his first goal in a Nafta jersey. The cannon fire continued into the first half and into the 24th minute. collected for the third time by P. Ravas. That was not all, however. He brought the guests on a goal difference in the 33rd minute. shooter Dominik Nemec – 3:2. That's how the first half ended. After the break, both teams' guns stopped. The equalizing goal was hindered by the referee as he handed out one yellow card after another to the visiting players. Several times the home goalkeeper was saved once by the crossbar of his goal, the second time by a defender on the goal line. On the vabang of the guests, the Levice finally closed the score of the match in the 90th minute. with a goal from Jakubík – 4:2.
More matches: Kolárovo – Gabčíkovo 1:2, Boleráz – Hurbanovo 2:1, FC Nitra – Lehota 0:4,
Pata – Marcelová 7:0, FC ViOn B – Imeľ 2:1, L. Rovne – Kozárovce 5:0, Trebatice – J. Bohunice 2:0.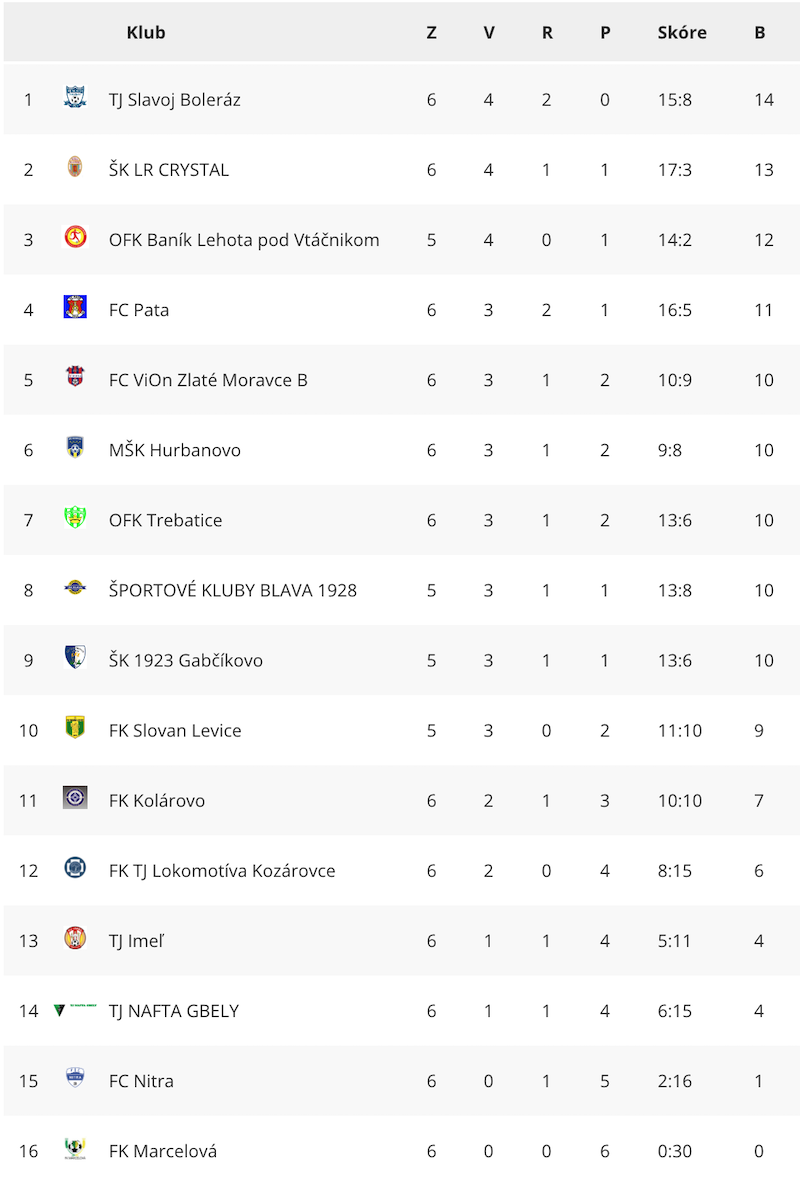 Finishes: Deadline – Gabčíkovo 14.9., Left – J. Bohunice 15.9.
ZsFZ 6th competition West 6th round
Son Kristof gave birth to father Andrej . not
In the 6th round, an interesting situation arose in the match between Cáry and Stráže. Home coach Andrej Krchňavý's problems with the team got worse after 10 minutes. his son Kristof, who opened the scoring of the match. However, he was wearing the opponent's jersey. Spectators saw many goals in Brodský with a narrow victory for the home side, but also in Rybky, where the home side defeated Slovan.
Banik Čary – Spartak Strae 0:5 (0:2), 10. K. Krchňavý, 34. A. Vrablic, 53., 89. M. Biksadský, 79. D. Pálka, r. Šlosar, Zachara, Mokoš.
lines: Ozábal – M. Šúrek, Šefčík, Riška, L. Šurek, Kollár, Smetana, L. Polák, Danihel, Kuník, S. Polák (pp. Tureček, Černoch, Do. Havel, De. Havel, Navrátil).
guards: Hladký – Pagáč, Obala, Buzay, Búran, Fukna, Krchňavý, Strapko, Vrablic, Biksadský, Pálka (pp. Konečný, Slovák, E. Pollák).
The visitors clearly dominated the neighborhood derby throughout the game. In addition to two goals, they also had a number of other excellent opportunities, but they struggled to reach the finish and the home goalkeeper Ozabal was also an obstacle for them. In the 10th minute, Krištof Krchňavý opened the scoring, much to the chagrin of his father Andrej, the home team's coach. The home side's problems with the formation multiplied after 23 minutes when team captain Dušan Riška had to resign due to injury, and moments later the visiting Adam Vrablic raised the score to 0:2 . Nothing changed after the break. The guests continued on, scoring three more goals and giving the hosts only one chance, but Lukáš Polák only hit the post.
deep – Jablonica 4:1 (2:1), 15., 30. (11), 47., 72. M. Šustek – 7. D. Slovík, r. Fuňák, Frič, Baláž.
Deep: Noščák (46. Hrušecký) – Štora, Kumančík, Serdahely, Pajpach, Pavlík, Vach, R. Morávek, Kadlečík, Mráz, Šustek (str. Chovanec).
apple tree: Freedom – M. Kubisa, Zaťko, Štefanka, Hamerlík, Gaža, Pátek, Galba, Peterka, Predmeský, D. Slovík (pp. Januška, P. Kubisa, Jánošík).
Jablonica has long-term health problems in the squad, so a smooth win for the leader of the table was expected. Surprisingly, however, the guests took the lead in the 7th minute after a quick set-up, former Hlboký's Dominik Slovík prepared the ball and defeated Noščák – 0:1. But then Marek Šustek took control of the match. In the 15th minute he used Mráza's pass to equalize, after half an hour he took advantage of Hamerlík's play with his hand when he converted the penalty to 2:1 at halftime. Immediately after the break, after another pass, Mráza went around the Sloboda goalkeeper and made the 3:1 the empty net. After this goal, the game dropped to average, the lead was enough for the home team and the visitors came forward without any danger. In the 72nd min. Marek Šustek closed the score at the last 4:1 with a technical shot from 20 yards using the crossbar.
Rybky – Šastin 6:0 (3:0), 4. B. Gypsy, 55., 67. 52. P. ernek, 28., 32., 88. A. Beňo, r. Košťál, Kus, Kačička.
Fish: Toman – Fodor, Chudý, Patka, Beňo, Chvala, K. Ravas, Černek, M. Mareček, B. Cigáň, I. Ravas (Harnoš, Vacula, Gergel, F. Cigáň).
Shastin: Vach – Švaral, Bíly, Cvečka, Mach, Krak, Svrček, Macánek, Stanický, Herda, Kučera (Perička, Schlosser, Mošať, Šághy, Brunner, Suchý).
A week ago, Slovan surprised Holíč, but he did not repeat his performance in Rybky and was disappointing across the board. Already 4 min. Boris Cigáň opened the scoring and at the end of the first half hour Adam Beňo scored two goals within four minutes – 3:0. The home side also enjoyed football after the break and captain Peťo Černek imitated Beň as he lifted the score to a looming 5:0 with two goals. That was not all, however. Two minutes before time, Beňo completed his hat-trick for the last 6:0.
Brodske – Mokrý Haj 4:3 (3:0), 11., 27. (11) Tavares, 45. B. Vach, 70. Kervison – 49., 75. R. Valúch, 53. P. Vaško (11), r. Vido, Majcher, Krchlik.
Brodske: Janči – Lima, Tavares, Kervison, Vach, Gonda, Pedro Rocha, Krňa, Gál, T. Ralbovský, Blaha (str. Ferenčík, Štvrtecký, Baláž).
Wet Grove: Jankovič – Mihok, Buchta, M. Valúch, Bohunický, Prokeš, Lašák, Vaško, Petranský, Pobuda, Eisner (pp. Brezina, Šenk, R. Valúch, Irša, Sekáč, Šipoš).
The home side took a two-goal lead in the opening half hour when Brazilian Tavares scored twice. He opened the scoring in the 11th minute. and he added the second goal from a penalty kick in the 27th minute. The guests' coach, Igor Šefčík, reacted in the first half with three substitutions, but didn't stop the home side's cannon shot when, in the 45th minute, Bohuš Vach made it 3:0 at halftime. Even in this condition the guests did not pack it. Immediately after the break Radko Valúch brought the score back and Peter Vaško made a contact goal from the penalty kick – 3:2. However, the home side has smart Brazilians and Tervison in the 70th minute. increased to 4:2. The guests had the final say when Valúch reduced the score to 4:3 with his second goal, but they had no time to equalize.
Holíč – Kuty 2:0 (0:0), 60. M. Uher, 72. J. Martinusik, r. Dragula, Revay, Kovacik.
Barber: Difficult – Petrovič, Nečas, Ružička, Masaryk, Hyža, T. Daniel, Čech, Spazier, Uher, Martinusík (p. Cermák, Králiček, R. Daniel, Konečný, Javorček, Duffek).
angles: Tailor – Puškač, Studenič, L. Ralbovský, Sálus, Šefčovič, Komorný, Kratochvíl, Bílek, Kopiar, Kalčík (pp. Kovarovič, Antala, Pelikán, Polák, Baláž, Halabrín, Pavlovič, Sedalík).
The home team was more active, but did not use any of the created opportunities in the first half. The guests also had chances, at least as many as the Holíčans, but they also couldn't get past the opponent's keeper Nesnadný. The increased efforts of the home team eventually brought success. In the 60th min. Martin Uher opened the scoring with a ground shot from a free kick and in the 72nd min. Jaro Martinusík added an insurance goal – 2:0.
Kopčany – Radimov 3:1 (2:0), 34., 38. D. Mráz, 60. M. Švrček – 68. F. Pukančík, r. Me. efčík, Ma. Šefčík, M. Dutka.
Kopčany: Vaculka – Blažek, Karas, Vach, Zubalík, Lukáč, O. Zabadal, M. Ivan, Ma. Vašíček, Švrček, Mráz (pp. Kozány, Neuróční, Lorenc, Tomele, Veselý, Novák, E. Ivan, Praženka).
Radimov: Kotvas – Vizvary, Vach, Valla, Urbanek, Mi. Vašíček Pukančík, Hýroš, Negrean, Petrúfka, Božek (p. Biskupič, Dermek, Lašák, Rehák, Masaryk, Kozány).
Kopčany struck twice in the last fifteen minutes of the first half, when former goalkeeper Brodský Kotvas was beaten twice by David Mráz, 2:0. Even after the break, the home team had the game in their hands and Maroš Švrček in the 60th minute. increased to 3:0. The home side were satisfied with a three-goal lead, which Radimov used to correct the result with Pukančík to the last 3:1.
Myjava – Bor. Nicholas 2:0 (2:0), 26. S. Galik, 45. R. Jankovuch, r. Bartko, Juhas, Fodor.
myjava: Odráška – Hobby, Is. Halabrín, Jankovuch, Flamik, Ja. Halabrin, Dubovský, Gálik, Kosík, Kodaj, Jankovič (Šraga, Hornák, Havlík, Mareček, Liška, Bies, Michalec).
B. NicholasGypsy – Kujovský, Malík, Černý, Cintula, Lánik, Plott, Ťulák, Petrík, Orlík, Kovalovský (Evans, Vrablic, Stupavský, Vanek).
The match was affected by a strong storm, which caused a long delay and was played in reduced visibility. He scored the first goal in the 26th minute. Gálik and a few seconds before half-time raised Jankovy to 2:0. After the break, the spectators did not see the goal.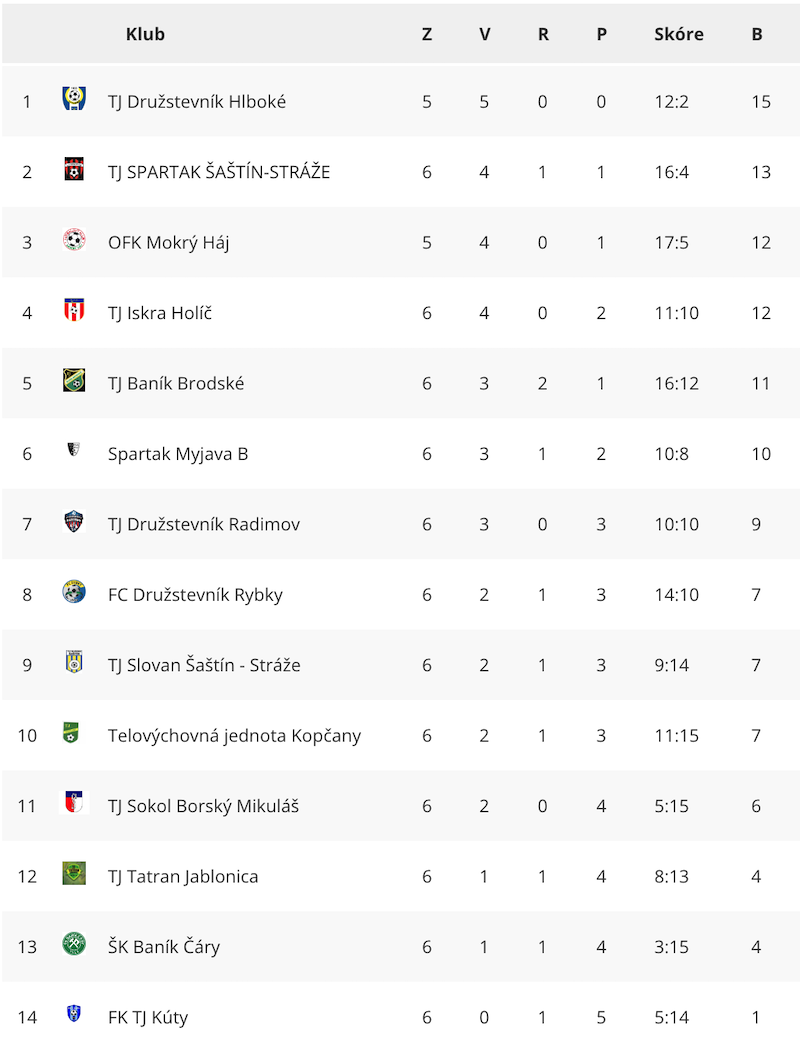 Endgame: Deep – Wet Grove 15.9.