Today, September 6, 2022, is the last transfer day for Slovakian football clubs.
Photo:

TASR

,

Lukas Grinaj
Sharani Zuberu in the DAC jersey against Trnava.

Several of them have taken this opportunity and are strengthening their ranks at the last minute.
Among them is also the champion Slovan. Although he closed the roster for the European Conference League yesterday, he finally found a reinforcement for the offensive.
Eric Ramírez, Ivan Šaponjic, André Green, Aleksandar Čavrič and an Medved are joined by another striker from abroad.
Sharani Zuberu should be expanding the whites' legionaries tonight.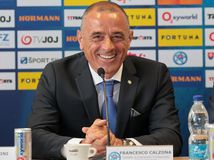 read more No one will say that I used to work for 10 thousand. Weiss commented on Calzon
The 22-year-old attacker last worked in Dunajská Streda, where his contract expired on June 30, 2022 and DAC did not renew.
He played 45 games at Rye Island with a record of 6 goals and 3 assists.
Before coming to Europe from Ghana, the 185-centimeter finisher worked in Sparta Prague's B-team, Šamorín and Michalovce.