Less than two weeks ago, he indicated that he was not afraid of change. He kept his word on Monday. Slovakia national football team coach Francesco Calzona has published his first nomination.
Photo:

TASR

,

Jaroslav Novak
The new coach of the Slovakia national football team, Francesco Calzona.

For the two games in September – against Azerbaijan (on Thursday, September 22 at 8:45 PM in Trnava) and Belarus (on Sunday, September 25 at 6 PM in the Serbian town of Bačka Topola) – he nominated 27 players, including four newcomers.
"I have tried to create a team according to my ideas and tactics. There are interesting players in Slovakia, but I also need to see their quality at a glance," he said at the press conference.
He thinks of three defenders
No fewer than seven players come from the Slovak league. Although Calzono did not see a single match live, he watched them from Italy. He admitted to watching the Slovakian national team for about 12-13 hours a day for the past month.
"I see that the Slovak league is growing. I wanted to give the local players a chance. They have the qualities to represent Slovakia. In the past we lacked a few, for example enthusiasm. There needs to be better quality work at the back. And also that the boys are not passive, they are involved in the creation of the game," continued Calzona.
The Italian helmsman first nominated Kristán Vall (Wisla Plock), Matúš Rusnák, Dávid Ďuriš (both MŠK Žilina) and Miroslav Káčer (Dunajská Streda). The DAC playmaker has already worn the national team shirt twice, but that was in unofficial matches in January 2017 in the United Arab Emirates against Uganda (1:3) and Sweden (0:6). Both Rusnák and Vallo can also play as fullbacks.
Will Calzona and his team try to play with only three defenders?
"They are interesting players. I needed them for these messages. They are of good quality, but they have to convince me. I like Rusnák's defense. He knows when to strike, he has great timing. At the beginning we will play with four defenders, we will see that over time," Calzona said.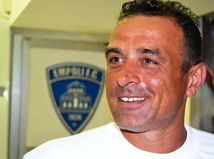 read more Calzona is not a buran, but it can be pressed. Ham? He would play in every rep
Captain? Definitely the cabin
Youngsters Tomáš Suslov from Groningen and Spezia striker Dávid Strelec are missing from the nominations. They will be available to the coach of the national team 21, Jaroslav Kentoš. On September 23 and 27, the youngsters will compete against Ukraine for promotion to next year's European Championship.
"Right now I don't want to talk about the players I released. They have two important games ahead of them. I watch the whole performance carefully. His players will definitely be part of the A-team in the future," said the chief mate.
He has not yet specified who the goalkeeper unit will be. Neither Martin Dúbravka nor Marek Rodák caught much this season. The captain is determined by the cabin. Milan Škriniar had the tape in the last matches.
"We have five training sessions ahead of us. On that we will see who will be in the starting lineup and we will see who will be in the starting lineup. The team decides. When we meet, I ask the players who they would If they choose Škriniar or anyone else, I'll agree," Calzona said.
His new indictment fell short of expectations at the four June meetings. After two wins and two defeats, they do not have the promotion from the 3rd Group C division of the League of Nations in their own hands. Kazakhstan only needs two points in the remaining two matches.
"We still have a chance to continue. We definitely have to win. These are sharp matches, not friendly ones. At the same time, they serve for me to observe the players," concludes Calzona.
The nomination is as follows:
goalkeepers: Martin Dúbravka (Manchester United), Marek Rodák (FC Fulham), Dominik Takáč (FC Spartak Trnava)
defenders: Peter Pekarík (Hertha Berlin), Kristián Vallo (Wisla Plock), Matúš Rusnák (MŠK Žilina), Martin Valjent (RCD Mallorca), Norbert Gyömbér (US Salernitana), Milan Škriniar (Inter Milan), Ľubomír Šatka (Lech Pozna), Dávid Hancko (Feyenoord Rotterdam), Vernon De Marco (ŠK Slovan Bratislava)
midfielders: Patrik Hrošovský (KRC Genk), Stanislav Lobotka (SSC Napoli), Juraj Kucka (ŠK Slovan Bratislava), Miroslav Káčer (FC DAC 1904 Dunajská Streda), László Bénes (Hamburger SV), Christián Herc (Grasshopper Zurich), Matúš Bero (Vitesse Bero (Vitesse Bero) Arnhem), Erik Jirka (Viktoria Pilsen), Ivan Schranz (Slavia Prague), Martin Regáli (MFK Ružomberok), Lukáš Haraslín (Sparta Prague)
attackers: Dávid Ďuriš (MŠK Žilina), Róbert Boženík (Boavista Porto), Samuel Mráz (CD Mirandes), Adam Zreľák (Warta Poznaň)