So far, he has been in five Trnava and Slovenian derbies. All in the Bratislava team jersey. The first in Trnava colors awaits him on Sunday.
Photo: TASR, Lukas Grinaj
Poland SR Football EKL 3. Preliminary Round Rematch Samuel Štefánik (left) in Spartak Trnava jersey.
"I'm looking forward to it. The derby has its own charm, it's a football holiday," says Samuel Štefánik (30), who was one of the super talents of Slovakian football ten years ago.
You have a balanced record in the derby: three draws, one win and one loss. Do you remember these matches?
I especially remember the atmosphere, they were always accompanied by a bit of tension, a lot of expectation, they attract more attention from the fans, it is never a very ordinary match. But I don't remember many details.
Paradoxically, I remember the very first derby, which we lost by 0:4 in Trnava more than eight years ago. We didn't like it at all. I was disappointed then, but now I would take such a result… (laughs)
You started your competitive career as a twenty-year-old in Trenčín. You played a great season. Don't you feel like she was your best ever?
I leave similar reviews to others. I've never thought about it that way myself. I had a successful entry into the league, the team also did well, but I can't say which season was my best.
However, the performances in Trenčín opened the door for me to the national team and the Dutch league, the following year I made the switch to Nijmegen.
Have you ever wondered if you could have achieved more in your career thus far?
I sometimes think about it, but it's not easy to answer. A career also consists of many details, it is always influenced by many things, you will make many decisions in it.
You also have to be lucky and be in the right place at the right time. It could have been better, but also worse. I don't look back too much and dwell on it. I'm more interested in what's going to happen.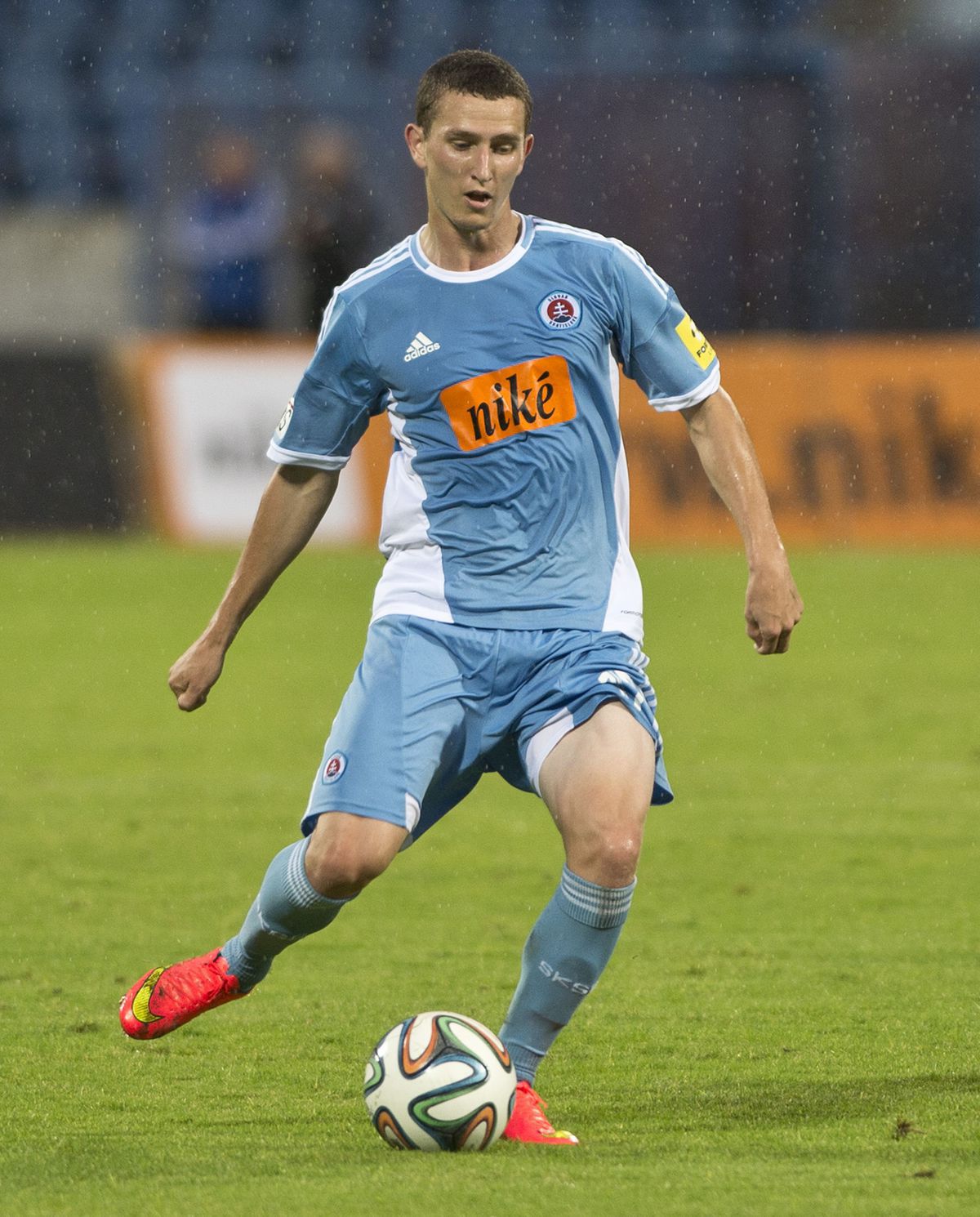 Photo: TASR, Martin Baumann
Samuel Stefanik Samuel tefánik in Slovakian jersey in 2014.
More than eight years ago you were received in Slovan with high expectations, but shortly afterwards you left it. Why?
We didn't have the best season, neither the team nor me. We finished third in the league with a big loss. Slovan always has the ambition to be the best, to win everything possible.
Our paths diverged, it wasn't an ideal time for me, but I don't remember Slovan in the worst way. I was loaned to the Polish team Podbeskidzie and then transferred to Termalica. It was an interesting phase in my career.
I met many Slovak and Czech players who worked there. The Poles have a better competition than we do, they have invested a lot of money in stadiums, academies, there is a lot of interest in football there, the media has been intensively working on it all week.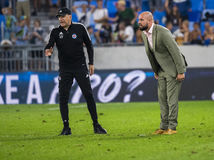 Read also Former Slovan player: It would probably be better if Weiss left. That's how he loses his temper
You returned to Slovakia. Was Trnava a good choice?
I believe so. I am satisfied. But I've only been in Trnava for two months so far, so it's too early for any deeper evaluations.
Termalice left the Ekstraklasa in the spring. Was it a reason to return?
Of course I wanted to play in the top league, but that was not the only reason. The woman already lived with the children in Slovakia, because they went to school, son Samko is eight years old, daughter Zara is six. I was in a dilemma whether I should stay in Poland or return home without them. We considered all the pros and cons in the family and the choice fell on Trnava in the end.
Have you moved to Rome, Slovakia?
No, we live in Dvorec, a small village two kilometers from Bánoviec nad Bebravou, where I was born. I commute to Trnava.
Isn't that too much for a daily commute?
It's not quite a comfortable situation. But when we have a busy schedule, I sleep in Trnava and also travel a lot to matches with the team, so far it's fine.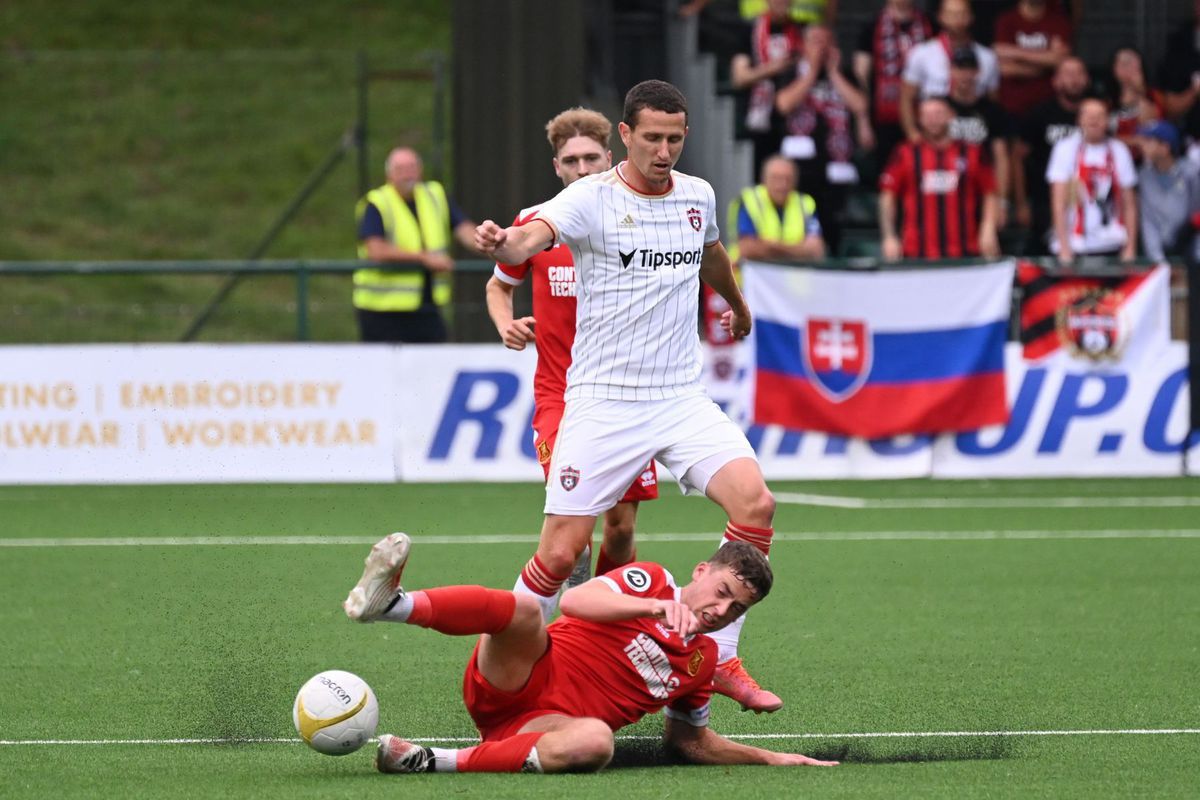 Photo: TASR, Lukas Grinaj
V. Britain SR Football EKL Newtown Trnava 2nd qualifying round rematch Samuel Štefánik from Trnava in a duel with Newtown player Ryan Sears.
Spartak last won in Trenčín with 2:0. Did you still feel nostalgia?
I have good memories of Trenčín, I grew up there with football, I always like to come back there. Maybe it's a more specific match for me, but I've played against Trenčín more than once, I take it with a grain of salt.
We went for three points, we accomplished the task, the win was very important to us. We jumped to second in the table, tuned into the derby, invited the spectators, I believe as many as possible will come.
Slovan has won four titles in a row and already has a lead at the top of the rankings. Is it possible to compete with him for the title?
He has all the conditions to defend the title again. But in football, the favorite doesn't always win. We will do everything we can to complicate his path, we will take stock at the end of the season. Also in this battle, Sunday's game will be of great importance. The opponent has quality and if he wins the lead would increase and although there are still many laps to go it would be very difficult for us to chase him.
Your derby tip?
Trnava will win. Sure, I don't doubt it.