First, he taught him how to properly hold a bat, and in a few decades helped him become the leader of the strongest power in the world. Theodore Dobias was Donald Trump's first baseball teacher. He was born in January 1926 in the village of Klátova Nová Ves, which is located in the Partizánske district. Prime Minister Peter Pellegrini therefore presented US President Donald Trump with a baseball bat with the Slovak tricolor in the White House.
Photo: SITA/AP
Theodore Dobias, baseball, USA, Theodore Dobias in an archival photo of the New York Military Academy.
Born in pre-war Czechoslovakia, his name was Teodor Dobiáš, written on his birth certificate, but it changed during his adolescence. Understandably, he adapted to the American environment – after his emigration he was Theodore Dobias.
It is not clear from the available information whether he chose to leave the big puddle with his parents, or whether only his father Joseph and mother Veronika left first (perhaps only temporarily to monetize the idea that they will return home ). "Through tears, Dobias last saw his grandparents, who raised him until he was 13, from the ship that took him to America in 1939," wrote Michael D'Antonio, author of a book about Trump called Never Enough. . It is not clear from these words whether only grandfather and grandmother took care of him at the time.
When he was just over 15 years old, he went to school at the New York Military Academy – NYMA. Shortly after his seventeenth birthday, he enlisted in the United States Army. He lived through the hell of World War II, survived it despite the fact that his life was certainly on the line several times.
Soldier in Italy, Trump's teacher
Dobias was involved in a difficult combat operation on the Apennine peninsula. Up to a thousand soldiers of his division were killed. He took his last memories of the end of the war in Italy with him from Milan, where he saw the upside-down body of the executed dictator Benito Mussolini.
After returning to the United States, he completed his studies at NYMA. "Then they asked him to stay in school, they gave him the rank of major. He was later promoted to colonel," according to an obituary on the Quigleybros website (Dobias died in June 2016 at the age of 90). Because he gifted in all aspects of sports, he especially taught the boys baseball, soccer, and boxing, while focusing on the girls in basketball.In 1959, a blond boy appeared among the students, who later became one of the most famous Americans. was Donald Trump.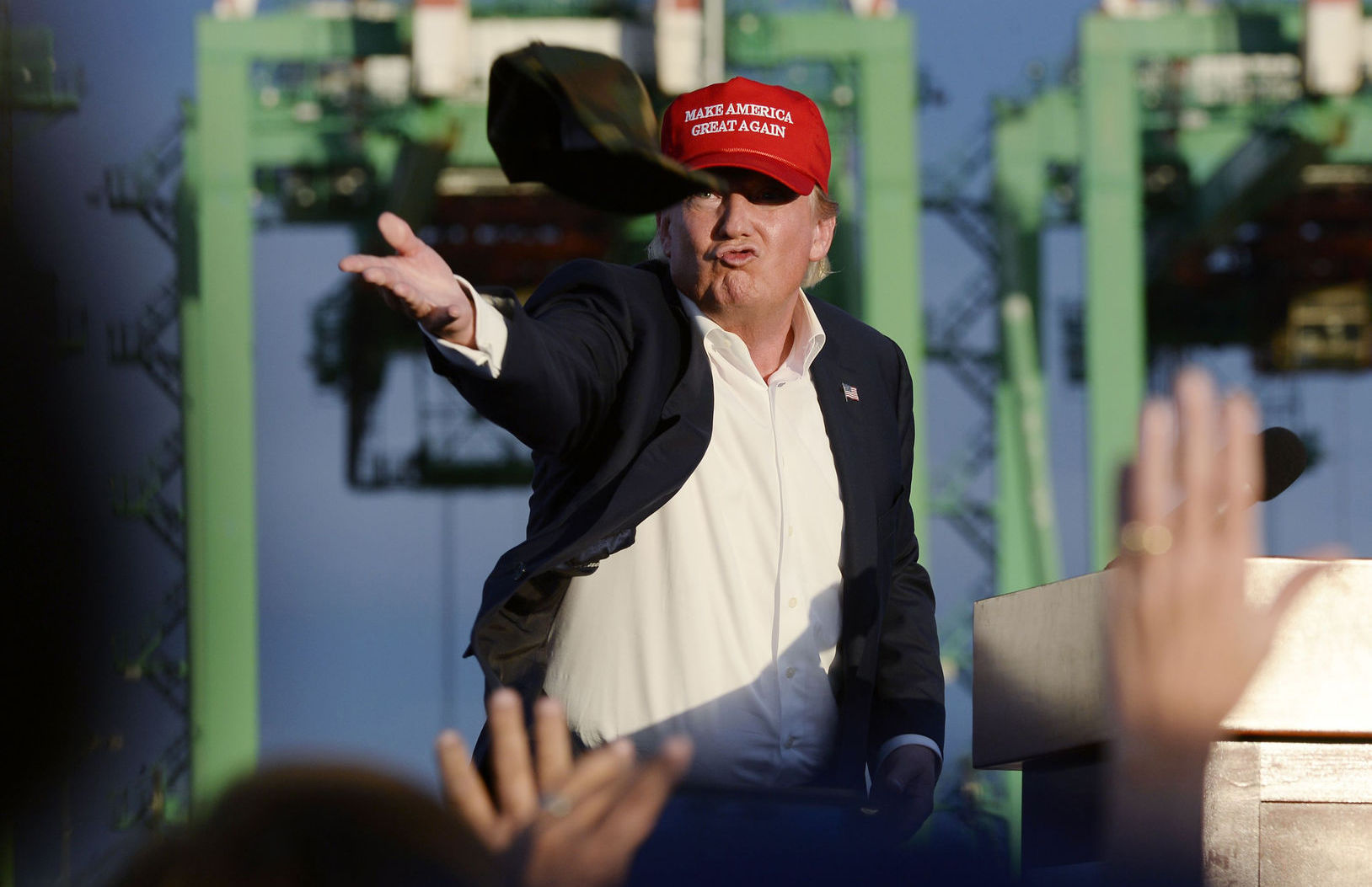 Photo: SITA/AP, Kevork Djansezian
GOP 2016 Trump Donald Trump, still running for president, throws his baseball cap at supporters in Los Angeles in a September 2015 photo.
Having learned to obey his word during the war, Dobias demanded strict discipline from the cadets and obeyed orders to the letter. During a field survival exercise, an exhausted Trump was unable to continue the exercise and lost control. "Give me a goddamn break!" he yelled at Dobias as he responded to his next order. As an adult, Trump noted that then it was normal to hit a student, now a teacher would go to jail. "Dobias went after me like you wouldn't believe it," he said of hitting him.
However, according to this book, Trump admitted years later that NYMA's high standards benefited him in later life. He even named Dobias as his first real role model, alongside his father.
He was proud of himself. He believed he was the best
D'Antonio quoted Dobias in the book, who emphasized that winning in sports isn't everything (it's also about cultivating physical fitness). But Trump saw it differently. "He told his teammates that they were here to win. He always wanted to be number one. In everything," revealed his former teacher. He added that it was very important to young Donald that others see that he is a unit.
Proof that he always wanted to be first is a story that surprised Dobias himself. NYMA cadets would march in a ceremonial parade to mark the anniversary of Christopher Columbus's arrival in America. Catholic school girls had to walk in the front row. "Leave it to me, he said. He went to someone and when he came back they took us to the front line," Dobias remarked to D'Antonio. "Trump used to be proud of himself. He believed he was the best," he added.
A good baseball player
Despite the difficult experiences at NYMA, Trump emphasizes after many years that the school has given him a lot in life. He claims that this academy used to have more military training than many young men in the military get.
Dobias proved him right. "Trump was in our military school for five years. Believe me, it was like being in the military," he said in an interview with Politico four years ago. On his earlier charge, he noted that he remembers him as a very good baseball player.
The reporter for this portal spoke to Dobias in September 2015, which was three months after Trump announced he wanted to be head of the White House. However, he was in the position of an outsider. Dobias was one of the few Americans who saw his chances differently. He pointed out that he uses simple speech to speak to people. "If Trump wins the Republican Party nomination, he will be president of the United States," Dobias emphasized in the fall of 2015, when he hoped to change America for the better. In the end, what was then almost unthinkable became a reality: Trump not only won the party's primaries, but also won the presidential election.