Police in Trnava in connection with the Sunday game of the highest Slovakian football league between home team Spartak and Slovan Bratislava (0:0) are treating the attack on a police officer as a suspected assault on a civil servant.
Photo:

SITES

,

Martin Havrani
Martin Škrtel among Trnava fans.

In addition, the police registered five other incidents, involving all crimes.
A 29-year-old man from Bratislava is suspected of assaulting an official. At the train station, while boarding the train, he first verbally and later physically assaulted a police officer, whom he threatened to kill for exercising the authority of an official The police calmed the man and took him to the police.
The man was subjected to a breath test for alcohol after the procedure, he had 2 per thousand in his breath," the Trnava police said on the social network. The aggressive fan ended up in a police cell, after being sobered, the police will take further steps with him.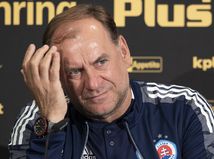 read more We have a problem, Slovan reports. Weiss admitted his team forgot how to win
One of Slovan's supporters was fined 500 euros for not respecting the organizer's call, he did not pay the fine on the spot. The crime also included setting up chimneys in the guest sector, using banned pyrotechnics in the home sector and damaging the clothing of a 23-year-old woman, whose torch burned her jacket and sweatshirt.
Police also assessed the damage to the glass filling at the train station as a crime, the suspect is a 26-year-old from Bratislava.
Police closed Kollárova Street in Trnava on Sunday afternoon. Slovak fans were escorted by the police from the train station to the entrance to the Anton Malatinský stadium and back to the train station after the football derby ended. The increased security measures in the city lasted until about 9 p.m. More than 9,000 spectators attended the match, according to organizers.